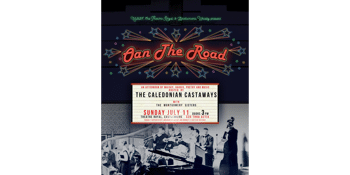 supported by LimeBurners whisky and Mowatt's Scottish butcher
OAN THE ROAD - Hosted by The Caledonian Castaways
Theatre Royal, Castlemaine (Castlemaine, VIC)
Sunday, 11 July 2021 3:00 pm
The Melbourne Tartan festival in association with
The Theatre Royal and NSRRF presents
OAN THE ROAD
Hosted by The Caledonian Castaways
With special guests the Montgomery Sisters
As part of the Melbourne Tartan Festival the Theatre Royal offer you an afternoon of good food, music and drink.
The Caledonian Castaways, in their own inimitable style, have been making friends wherever they go. Formed in 2018, the band features a collection of musicians, all born in Scotland, who have been playing in the Australian blues and roots scene for many, many years. Their self-penned witty and whimsical songs tell stories of their experiences as Scotsmen in Australia. Set to grooves the band know well such as blues, soul, Rhythm and Blues, ska and reggae, the show is one of storytelling , poetry, dancing and maximum crowd participation… Imagine a kitchen party singalong in the back blocks of Dundee!
On the decks will be the Montgomery Sisters playing Scottish pop on vinyl from the sixties to now.
The Theatre Royal and bar will be preparing a special haggis supper as well as whisky tasting.
The event will be proudly supported by LimeBurners whisky and Mowatt's Scottish butcher.
Doors at 3.00pm
Tickets will be strictly limited $30