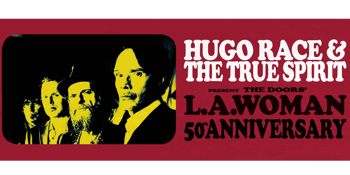 Press Play & Leicashow presents
Hugo Race and The True Spirit present The Doors "L.A.Woman" 50th Anniversary
Theatre Royal, Castlemaine (Castlemaine, VIC)
Saturday, 17 April 2021 8:00 PM
On the 50 th Anniversary of its release, Hugo Race and The True Spirit present The Doors'
L.A. Woman (1971): The Doors final studio album was a bluesy, self-produced, garage-
style recording that contains two of their biggest singles, including the atmospheric "Riders
on the Storm" It's quite an experience to hear it performed live by Hugo Race and his
psychedelic quintet who recently released the critically acclaimed 'Star Birth, Star Death'
double album. Hugo Race was a key element in Melbourne's early 80s post-punk scene, a
founding member of Nick Cave's Bad Seeds and of the seminal Australian cult band The
Wreckery. He has been a prolific independent producer and recording artist in Europe and
Australia for over 30 years with the True Spirit, Hugo Race Fatalists and Dirtmusic.