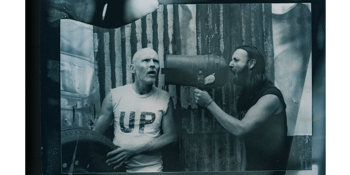 DEAD / Avola (US) / Doroth / Nadia Phillips Band
Theatre Royal, Castlemaine (Castlemaine, VIC)
Sunday, 15 August 2021 3:30 PM
Castlemaine based band/art project DEAD have spent 10 years relentlessly touring the world, releasing music and confusing audiences. Their live shows have become legendary. Fiercely DIY, they run their own label and do it all on their terms.
In 2020 the band played one solitary show before canceling US and Australian tours. Unbeaten by the loss of touring the band released an album ("Raving Drooling") to wide acclaim. During lockdown, writing music would keep the band alive and see them write and record a new album - "The Laughing Shadow," scheduled for release in 2022.
After multiple sold out shows in Melbourne and at the Castlemaine Fringe the band will preview songs from their forthcoming album featuring on stage guests and a stellar lineup of other acts. Fresh from an appearance at Blacken Open Air at Ross River, N.T, this will be the band's last local show for some time.
https://deadsounds.bandcamp.com/
Oregon (US) based multimedia artist Avola makes electronic music that combines a ferocious wall of sound with a deceptively subtle sense of dynamics. Avola is a sometime collaborator with DEAD, runs her own label and has a cult following worldwide. She will appear remotely, on the big screen, with an audio visual set created especially for this show.
Doroth is an alternative/pop duo consisting of vocalist/bassist Loretta Wilde (Rogue Wavs) and drummer Maria Moles (Jaala, Ajak Kwai, On Diamond). Their music is raw and warm, a calm and powerful experience at once. The songs are mostly formed from instrumental jams, transformed into pop-like structures with room for improvisation. They are a force; Loretta's intricate bass-lines, raw and powerful vocals tied with Maria's scattered and punchy rhythms create a captivating live show.
Nadia Phillips is a singer/songwriter who continues to explore instruments, styles and genres. In her hometown of Castlemaine she enjoyed an upbringing surrounded by music, art and nature. Nadia's latest release 'Sort It Out' was recorded with Castlemaine locals Jaxon Bailey-Banks on drums (member of Bruiser), Jet Mules on bass and guitar, and Ezra Demchy on guitar. The record packs authenticity, grunge and grittiness into emotive vocals and grinding riffs.
The band have been up and down the Calder constantly, playing across Melbourne and are keen to be back at The Theatre Royal.