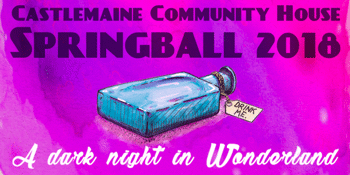 Castlemaine Community House
Spring Ball with the Sugar Fed Leopards
Sugar Fed Leopards
Theatre Royal, Castlemaine (Castlemaine, VIC)
Saturday, 6 October 2018 8:00 PM
Castlemaine Community House presents its legendary annual fundraiser: Spring Ball.

This year's theme is A Dark Night in Wonderland. Expect all manner of imaginary, dreamlike apparitions and dark, intriguing forms to grace the historic surrounds of Castlemaine's favourite party palace, the Theatre Royal.

With headliners Sugar Fed Leopards and support from some contrary local oddities, Spring Ball 2018 will not disappoint.Castlemaine always brings its most outlandish attire to Spring Ball, so come in only your very, very bestest costume. The curiouser and curiouser the better.