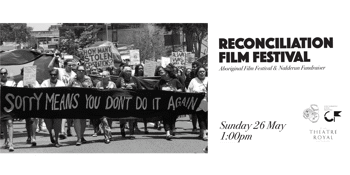 Theatre Royal Castlemaine, Nalderun & Castlemaine State Festival
Reconciliation Film Festival & Nalderun Fundraiser
Theatre Royal, Castlemaine - Cinema (Castlemaine, VIC)
Sunday, 26 May 2019 1:00 pm
SUN 26 MAY - 1PM

To begin Reconciliation Week, the Theatre Royal Castlemaine, Nalderun & Castlemaine State Festival are hosting a Reconciliation Film Festival to celebrate Aboriginal culture, filmmakers & stories.
Join us from 1pm on Sorry Day (Sunday, 26th of May) for a Welcome to Country by Dja Dja Wurrung elder, Uncle Rick, & Acknowledgment of Country by the Theatre Royal Team, followed by a cleansing with the Sacred Leaves.

The film program includes a collection of short films, including the Warrigal Creek Massacre, followed by feature documentaries After The Apology & Undermined: Tales from the Kimberley.

Profits will go to local Koorie organization, Nalderun ("altogether" in Dja Dja Wurrung language) to help contribute to their incredible initiatives within our community.

Bush tucker tea & biscuits made by Aunty Julie will be available in the second interval.

Before & after the films, Nalderun executives will be there for introductions & question time.

Tickets are $30+BF via www.theatreroyalcastlemaine.oztix.com.au or $30 from our Box Office.

~

FILMS:

Undermined: Tales From The Kimberley
Australia's vast and unspoiled Kimberley region is under threat, with mining, pastoralism and irrigated agriculture driving an unprecedented land grab. UNDERMINED investigates the politics of an area now branded "the future economic powerhouse of Australia," and what this means for our First People and their unique cultural landscapes. As pressure from industry exposes the limits of Indigenous land rights, what will remain of over 200 remote Aboriginal communities? We follow young leader Albert Wiggan, veteran cattleman Kevin Oscar and Senior Elder June Davis through David-and-Goliath battles to preserve their homelands, asking the question: for whose benefit is this development?

DIR: Nicholas D. Wrathall
RUN TIME: 90 mins

After The Apology
Suellyn thought FACS would only remove children in extreme cases until her own grandchildren were taken. Hazel decided to take on the FACS system after her fourth grandchild was taken into state care. Jen Swan was raising her grandchildren until she was deemed unsuitable by FACS. The rate of Indigenous child removal has increased at an exponential rate since Prime Minister Kevin Rudd delivered the apology to the 'stolen generations' in 2008. Hazel started GMAR as a response to the rising rates of child removal and along the way she has been joined by families across Australia in the battle to bring the kids home. Together are not only taking on the system, they are changing it.

DIR: Larissa Behrendt
RUN TIME: 81 mins

The Warrigal Creek Massacre
When Angus McMillian and the Highland Brigade rode through Gippsland in 1843, they aimed to murder as many Gunai Kurnai children, women and men as they could. At a quiet bend on a beautiful creek they committed one of the worst acts of indiscriminate killing in the Australian colonies. Drawing on official archives and oral histories that have never died, this is the story of The Warrigal Creek Massacre. Because to move forward we must acknowledge our past.

DIR: Andrew Dodd and Lisa Gye
RUN TIME: 52 mins

~

The Theatre Royal stands on Dja Dja Wurrung country.
We acknowledge and pay our respects to the Dja Dja Wurrung
people, as the traditional custodians of this land,
and to their Elders past, present and emerging.
We extend that respect to any First Nations people who are
present here today.
We acknowledge that Aboriginal sovereignty has not been ceded.