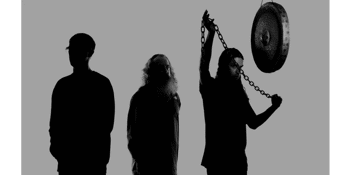 MY DISCO
+ special guests
Theatre Royal, Castlemaine (Castlemaine, VIC)
Saturday, 19 November 2022 8:00 PM
MY DISCO is an Australian music group that was formed between long term collaborators, Rohan Rebeiro,Benjamin Andrews, and Liam Andrews in 2003.

In 2003, MY DISCO performed their first shows in unconventional all-ages venues in Melbourne. Late 2003 saw the release of their debut 7" and marked their first Australian tour. The band soon became renowned for their arduous tour ethic, demonstrated in extensive tours to often far to reach destinations that included remote areas of Australia, Southeast Asia andMexico.

The release of their debut album 'Cancer' in late 2006 marked a new level of emphasis on minimalism. More international and national tours were undertaken, including additional tours to the United States, New Zealand and the United Kingdom.

Their second album 'Paradise' was recorded in Chicago, Illinois in 2007 with Steve Albini at his studio Electrical Audio. The album is noted as the band's mostrefined and minimalistrelease, capturing their stentorian live sound, with several songs consisting of one note, repetitive single-sentence vocals and long- sustained guitar chords. Drum patterns, although minimal, still offer dance-like, disjointed beats.

2010 saw the release of a new single called "Young", a limited edition 12" released through Mistletone Records and re-issue throughBlast FirstPetite, as a lead up to their third and forthcoming album. 2010 Saw the release of the band's third and most diverse album, 'Little Joy.' Their first signing to NYC acclaimed label, Temporary Residence Limited. 2012 MY DISCO released another limited 12", this time World Wide through Temporary Residence Ltd, entitled "Wrapped Coast." The record features two extensive racks, with remixes by London's Factory Floor, and Birmingham based noise-maker Justin Broadrick.

On International Record Store Day in 2013, the band put out a single on one of the World's most acclaimed independent labels, Sub Pop records. It featured as the label's 1000th release. 2014/15 saw the band put the finishing touches on their fourth studio album, entitled "Severe" and once again working with Producer and friend Cornel Wilzcek at Electric Dreams Studios in SouthMelbourne. Considered their bleakest work to date, Severe captures the subtleness and high concentration levels of MY DISCOs renowned minimalist approach to dark and heavy instrumentation. Severe was nominated and shortlisted into the final for the AMPAustralian Music Prize.

2016/2017 saw the band headline the prestigious Sugar Mountain Music Festival in Melbourne, as well as co-headline a show with The Drones at The MelbourneTownHall as part of Melbourne Festival. Europe,South EastAsia, Japan and multiple Australian headline tours followed. In 2018 the band started work on their fifth studio album in Berlin, Germany, and Melbourne, Australia. Working with Boris Wilsdorf and Cornel Wilzcek, the album is titled 'Environment' and was released World Wide on Downwards Records in early 2019. It has been considered their most uncompromising work to date.

In 2019 the group toured Australia and Europe extensively to coincide with Environment's release. They performed at Berlin's Atonal Festival in August, toured with Southern Lord band Big Brave through Europe and the UK and headlined shows in Russia in early September. In January 2020, the band embarked on a tour of Australia and released a remix LP on Downwards Records, working alongside label head Regis, as well as contemporaries Rainforest Spiritual Enslavement, Giant Swan, Oliver Ho and Kerridge.

More to come….

MY DISCO has toured South-east Asia (2005, 2008, 2011, 2012, 2017), North America (2005, 2006, 2007, 2009, 2010, 2011), Canada (2009, 2011) Mexico (2007) United Kingdom (2006, 2009, 2012, 2016), Ireland, (2006, 2009), New Zealand (2005, 2007, 2009), Japan (2008, 2011), Europe - including southeast Europe,EasternEurope andScandanavia (2009, 2011, 2012, 2016) Russia (2010, 2019) and Australia, countless times.