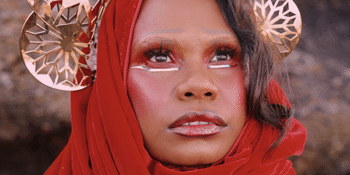 Select Music, Maximillian Brown & Dot Dash Present..
CANCELLED - NGAIIRE Album Tour
With Special Guests
Theatre Royal, Castlemaine (Castlemaine, VIC)
Saturday, 10 September 2022 8:00 pm
5 years in the making, Ngaiire is taking her third album '3' around Australia and Aotearoa/New Zealand to celebrate its August 27th release.
You can expect the signature vocals, beats and costumes that have seen Ngaiire receive countless awards including four National Live Music Awards, an FBI Radio SMAC Award and the inaugural Australian Women in Music Award for Artistic Excellence. Not to mention bringing her signature style to the stages of Glastonbury and Splendour In The Grass and tours alongside Sufjan Stevens, Alicia Keys and Leon Bridges.
'3', a deeply personal album, brings Ngaiire's heritage as a Papuan New Guinean woman to the foreground, exploring the link between heritage and westernised existence.
"I am full to the brim of stories that many don't have the privilege to hold within themselves; some I know quite well and some live deep in my DNA that I won't have enough lifetimes to unpack. But the ones I know, I will tell how I want to because I can. So here is a collection of love letters to 3 entities - myself, my country and those I love both here and now departed."
-
NGAIIRE
For the first time, Ngaiire will be releasing '3' in a limited edition vinyl. Pre-buy your copy now HERE