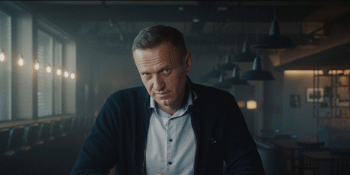 MIFF & Theatre Royal
MIFF: Navalny
Theatre Royal, Castlemaine - Cinema (Castlemaine, VIC)
Sunday, 21 August 2022 6:00 pm
Unclassified 18+
This award-winning, jaw-dropping documentary follows Vladimir Putin's political rival as he investigates a state-sponsored poisoning: his own.
In late 2020, on a flight from Siberia to Moscow, Alexei Navalny – anti-corruption campaigner, leader of the Russia of the Future party, social media star and popular critic of the Putin government – became viciously ill. Spirited out of the country to life-saving treatment in Berlin, Navalny learned he had been dosed with the Soviet-era nerve agent Novichok, a poison favoured by the Kremlin. While recuperating in Germany, Navalny teamed up with Christo Grozev, lead Russia investigator at Bellingcat, to solve the whodunnit of his own attempted murder … with astonishing results.
Winner of an Audience Award and the Festival Favorite Award at this year's Sundance (where its very existence was kept secret until just before its own world premiere), Navalny is at once a taut conspiracy thriller and an account of the machinations and missteps that led to a failed domestic assassination. But Canadian documentarian Daniel Roher's film goes even further: it's also a psychological study of a canny, charismatic and uniquely media-savvy politician, and a blazingly urgent glimpse at the risks dissidents face when opposing the Putin regime.
"One of the most jaw-dropping things you'll ever witness … This terrifying documentary enters the realms of the far-fetched spy thriller – and yet it's all true. Five stars." – The Guardian