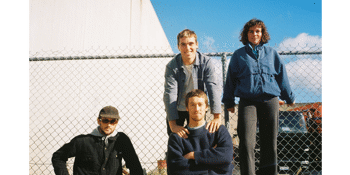 Theatre Royal, Castlemaine (Castlemaine, VIC)
Saturday, 10 July 2021 8:00 PM
After the announcement of their new 7" on Tiny Town Records, Melbourne's Floodlights are heading around Australia to play a handful of special launch shows.
The first single '
Overflowing Cup'
is a narrative, exploring the way in which perspectives and opinions developed over a lifetime can impact your ability to see things from another point of view. The soon to be released A side 'The More I Am' grasps the idea of continually greeting everyday happenings with cynicism and negativity, and how that can lead to a tinted view of life. It is an energetic beginning to the release, with the addition of baritone saxophone that creates a post-punk energy while still obtaining a warmly familiar Floodlights' sound.
'The More I Am / Overflowing Cup 7"' is out on June 18th on Tiny Town Records.
You can stream 'Overflowing Cup' now via all streaming platforms.
Support comes from Equal Parts, a new post-punk outfit featuring members from CLAMM.