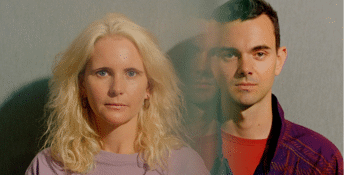 Big Scary
with Special Guests Beckah Amani and Gabriella Cohen
Theatre Royal, Castlemaine (Castlemaine, VIC)
Friday, 21 October 2022 8:00 pm
After the false start last year for a tour celebrating 2021's
Daisy
, Big Scary now announce a broader run of shows this October.
Photo by Lilli Waters
The band were unable to reschedule those covid-cancelled dates because Jo had a baby in November! But with the state borders now open, Tom and Jo have booked a full run of shows, not taking the opportunity to play live again for granted!
Freshly nominated for the Best Independent Pop Album AIR award, Daisy is their most playful and dramatic album yet, as heard in the kooky funk of "Get Out!" and the ecstatic disco of "Bursting At The Seams". A feature album on Double J, Edge Radio, 2ser and Radio Adelaide, Daisy had critics and fans joyful at the band's return.
And turning things back to start, the band will be performing as a two-piece for the first time since about 2013 - a total reimagining of most of their catalogue, since their last headline tour involved three extra musicians onstage.
Along with songs from Daisy there'll be favourites from their lengthy back catalogue of albums, including Vacation (2011), 2013 AMP-winner Not Art, and Animal (2016). And for those paying attention, there'll be an exciting surprise before the curtain rises…
TICKETS -
BIGSCARY.NET
Oct 13 - The Factory Theatre, SYDNEY -
TICKETS
Oct 14 - Republic Bar, HOBART -
TICKETS
Oct 15 - Jive, ADELAIDE -
TICKETS
Oct 19 - The Triffid, BRISBANE - TICKETS
Oct 21 - Theatre Royal, CASTLEMAINE -
TICKETS
Oct 22 - Corner Hotel, MELBOURNE -
TICKETS
Big Scary have never been an ordinary indie-pop band. Their very versatility has engendered experimentation, flux and transgression -
NME
Perhaps the best band in Australia right now – or at the very least, the most confident and daring on the scen
e… it's clear we are witnessing one of the most successfully inspiring spurts of Australian musical creativity this side of the century - Best Before
They deliver an incredible live performance
- The Music