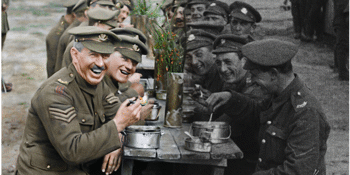 Theatre Royal Castlemaine
They Shall Not Grow Old - Special Castlemaine RSL Fundraiser Screening
Castlemaine RSL
Theatre Royal, Castlemaine - Cinema (Castlemaine, VIC)
Thursday, 25 April 2019 5:00 pm
ANZAC DAY - THURSDAY 25 APRIL - 5PM
*SPECIAL FUNDRAISER SCREENING FOR CASTLEMAINE RSL*

Fathom Events has partnered with Warner Bros. Pictures to bring Academy Award-winner Peter Jackson's poignant WWI documentary They Shall Not Grow Old to select cinemas.
The acclaimed documentary is an extraordinary look at the soldiers and events of the Great War, using film footage captured at the time, now presented as the world has never seen. By utilizing state-of-the-art restoration, colorization and 3D technologies, and pulling from 600 hours of BBC archival interviews, Jackson puts forth an intensely gripping, immersive and authentic experience through the eyes and voices of the British soldiers who lived it. Jackson recorded a special introduction to the film offering his perspective on why the film is important for audiences, who have never experienced WWI footage as anything but grainy black & white, and silent.
Jackson opens a window to the past in a way that has never been seen or heard before, noting, "Restoration is a humanizing process."