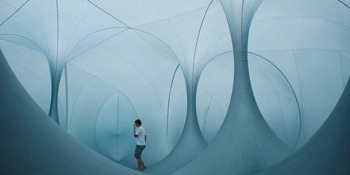 MIFF & Theatre Royal
MIFF: The Reason I Jump
Theatre Royal, Castlemaine - Cinema (Castlemaine, VIC)
Saturday, 20 August 2022 1:00 PM
(M)

Returning to MIFF after 2021's COVID cancellation, this Sundance Audience Award winner is a revelatory, immersive adaptation of Naoki Higashida's memoir of a neurodiverse life.
Higashida was just 13 years old when The Reason I Jump was published. A groundbreaking international bestseller, the book – whose English version was co-translated by author David Mitchell – offers unprecedented insights into the active and creative mind of someone living with non-verbal autism. In adapting it for the screen, director Jerry Rothwell (How to Change the World, MIFF 2015) has created something equally robust and innovative.
Recalling Notes on Blindness (MIFF 2016) and Unrest VR (MIFF 2017) in its sensory-led audiovisual approximation of a world that neurotypical audiences often struggle to understand, Rothwell's film artfully weaves Higashida's words with the stories of five other neurodiverse young people from around the world. Through exquisite cinematography and sound design, it depicts the sometimes disorienting and overwhelming but equally rich and joyful experiences of each individual's interior life. The result, which took home Sundance's World Cinema Documentary Audience Award in 2020, is a remarkably empathetic work likely to change minds, warm hearts and inspire conversation about the autism spectrum.
"As emotionally piercing as it is beautiful to behold … this compassionate, creative documentary will open ears and eyes in equal measure." – Variety