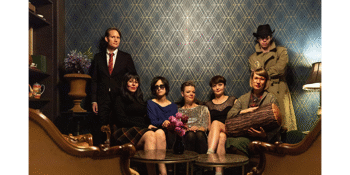 BEAUTIFUL DARK – THE MUSIC OF TWIN PEAKS and HACHIKU
Theatre Royal, Castlemaine (Castlemaine, VIC)
Sunday, 7 March 2021 4:00 PM
Beautiful Dark – The Music of Twin Peaks, Australia's preeminent interpreters of the music of David Lynch and Angelo Badalamenti, come to Castlemaine's Theatre Royal on Friday March 7.

After two sold out shows during the 2019 Melbourne Fringe Festival, and another at the Hepburn Springs Palais in 2020, the band have regrouped to reinterpret and reimagine the world of Twin Peaks in its most immersive way yet.

Beautiful Dark are an ensemble focussed on bringing the mood and music of David Lynch and Mark Frost's television series Twin Peaks to life. Using video and audio from the series, along with projections, props and a total commitment to the original soundtrack, the band's show Welcome to Twin Peaks is unlike any other. From the Double R Diner to the Red Room, be taken on a journey through a strange and mysterious world where the birds sing a pretty song and there's always music in the air.