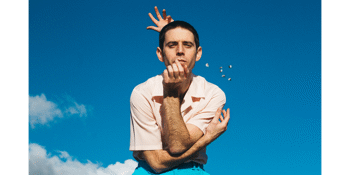 Select Music & Fresh Air Artists Present..
Ryan Downey
with special guests
Theatre Royal, Castlemaine (Castlemaine, VIC)
Friday, 27 August 2021 8:00 pm
A TON OF COLOURS is the luminous new art rock album from Ryan Downey - an album that pulsates with love and curiosity. To celebrate it's May 14 release through Dot Dash Recordings, Downey and his band will bring their electrifying live performance to Melbourne, Sydney and Brisbane this July and August.
At the forefront of A TON OF COLOURS is Downey's breathtaking voice - a rich baritone with a dramatic range that can shift from a rumbling purr up to a vulnerable crescendo, recalling the all-terrain vocals of Bryan Ferry and David Bowie. It gets shaky, it gets elegant and it gets theatrical while staying unwaveringly sincere. Downey enlisted award-winning Canadian-Australian producer Burke Reid (Julia Jacklin, Courtney Barnett, The Drones) for this record. Bold, playful and underpinned with raw sophistication, A TON OF COLOURS heaves, flickers and radiates with a powerful tenderness, delivering an electrifying heft that hits deep and is powerfully emotional, saluting re-defining guitar records by artists like Big Thief and Anna Calvi.
Following 4 sold out shows in April, praise from NME, The Sunday Times UK, Double J and Songwriting Magazine, tours with Middle Kids, Marlon Williams and Sarah Blasko, performances at MONA, Melbourne Recital Centre, Falls Festival, Bigsound and more, Ryan Downey's live show is an experience not to be missed.
"On stage, Downey's purposeful elegance brings to mind the mime training David Bowie undertook in his Ziggy Stardust phase. Big nods to '70s British rock are audible on 'A Ton Of Colours' – recorded by Burke Reid (Courtney Barnett, Julia Jacklin) – like the fantasias of Kate Bush, or the swagger of Roxy Music frontman Bryan Ferry."
- NME
"Downey's vocal performance demands your full attention."
- Songwriting Magazine (UK)
"Ryan Downey has a hell of a voice…Every twist and turn Downey's band makes is an opportunity for a change in approach for the singer's powerful voice."
- Double J